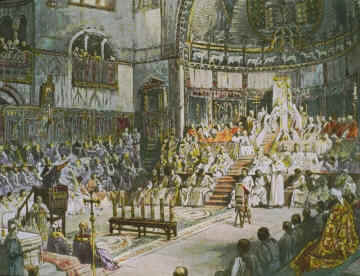 Council of Nice, A.D. 325
We believe the "angel" of this period was Arius.
He was a devout Christian who endeavored to refute errors introduced into the church on the nature of Christ.
However, Constantine ruled against Arius, and he "fell" from "heaven [ecclesiasticism] burning as it were a lamp."
"And it [the lamp of Arius] fell upon the third part [right-hearted] of the rivers [sources of religious teachings upholding Babylon], and upon the fountains of waters [the theologians and teachers—the sources of religious teaching]."